About Drainage Online
Drainage Online has grown from strength to strength since we were first created over 25 years ago!
With a team dedicated to price matching and sourcing new products we carry a huge range of products from the market leaders within the above and below ground drainage industry, including FloPlast, Marley, Hunter and Brett Martin.
With regular onsite training days with all of our suppliers our team carry a huge amount of knowledge about brand compatibility, fittings and the industry, with many of them coming from a 'hands on' role within the industry, meaning you get the right advice and the right products every time.
Leading Brands
Stocking all the leading brands including Brett Martin, Lindab, Marley, FloPlast and many, many more – we're confident we'll have what you're looking for. See below for a full list of brands*: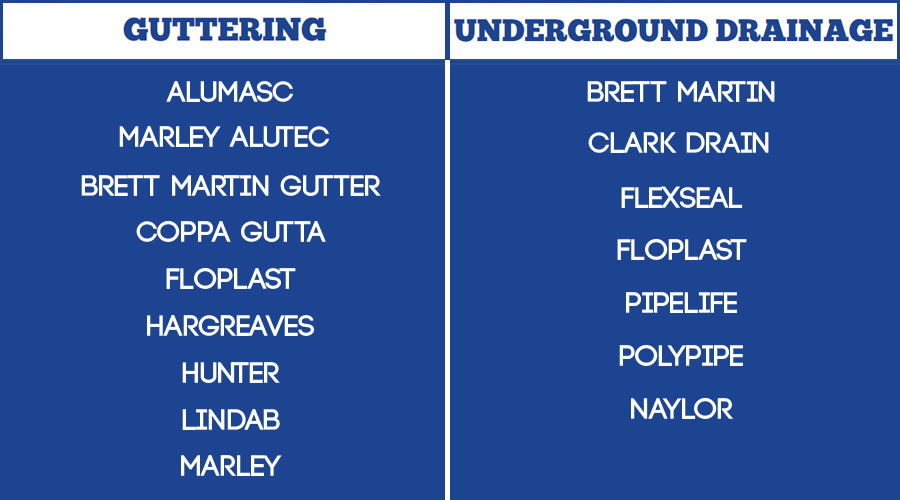 *Full list was as of Summer 2018, subject to change and updates.
Buy with confidence
Drainage Online is located in March, Cambridgeshire and has access to a network of depots that runs the full span of the country, meaning more often than not your delivery will be with our own vans, and because we care it will reach you on time and in good condition - where possible we'll also try and give you an idea of what time you should expect to receive your delivery so that it doesn't hold your day up, after all who wants to plan their day around a delivery?
For additional peace of mind, all of our online and telephone orders are securely processed using RBS WorldPay, the UK's largest online payment systems allowing you to buy with confidence.
Acquired by General All Purpose Plastics (GAP) Ltd in August 2017, Drainage Online has received a huge investment with the design of a new website, larger office location, access to more delivery depots and the introduction to even more drainage and guttering products.
GAP has over 100 depots across the country allowing us to utilise their network of depots for deliveries reducing the needs for third party delivery agencies, reducing damages and losses to next to nothing!
At Drainage Online we really care about the needs of our customers and about our product range – if you're finding it difficult to find the any specific guttering or drainage products whether it's a certain brand or product – it's likely we'll have it in stock or have access to it, simply call us on 0330 123 1884 or email us at sales@drainageonline.co.uk.